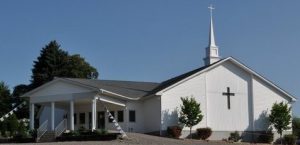 Here at Pine Creek Church we believe that the aim should be to have a biblically God-centered Christian life. We also believe that such a goal can only be reached by giving importance to the centrality of God in doctrine, worship, and service.
In doctrine, God's unearned love is clearly seen and demonstrated in the life and death of Jesus Christ. Our salvation is through Him, through the unearned forgiveness of sin with God's Glory being the ultimate goal.
In worship there is a joyful reverence in which prayer, song, and sermon all come together to help God's people see and express back the worth of God. God's desire for worship as declared in Scripture are the standards through which we strive to worship Him.
In service, the glory of God is to be the motivation for our service to one another and the those God places in our lives. This should motivate all of our choices and desires. Living a Christ-like Christian life is the goal as we strive to be His representatives in this life and subordinate to Scripture.
The leadership at Pine Creek Church desires to help its members move toward maturity in Christ in all of these areas which make up a God-Centered church.
We are and elder-led assembly, considered to be a reformed Baptist church and are in substantial agreement with the London Baptist Confession of 1689 However the LBC and our Statement of Faith are subordinate to Scripture and our Statement of Faith is amendable.
We hope that you will join us in worship and stay after our service for fellowship, giving us a chance to get to know each other. We would love to hear what God is doing in your life, how we can help with your Christian walk, or talk and pray with you about how you can come to know Christ as your savior.
To see what we at Pine Creek believes click here and please contact us if you have any questions.
Our services start at 10:00am with Sunday School with our main worship service at 11:00 a.m. every Sunday.